Today, in my email inbox via Friends Reunited, I found an invitation to a school reunion. Apparently Disley Primary School is celebrating its 100 year anniversary. What an amazing thing. I quickly clicked on the link to find out more details. 27 June is the date and requests for photographs and stories are wanted. It says that 600 invitations have been issued but so far, there do not seem to be any confirmed attendees. It started me musing.
Are these things a good idea? For a start, how will we recognise each other after nearly 50 years? Hang on, does that mean the school was only 50 years old when I went there - blimey - it felt ancient. There again, a lot of what I learnt there stuck over the years, so it was a good thing that I went, even if it was only for a year.
Looking at the photo again in detail, it brings back a completely different time of life. Fashion for school kids in those days was mainly Clarks sensible shoes - mine being a particularly fine 'slip on' - others in the regulation Clarks sandals - still sold to this day and a secret hankering of mine. Girls and boys wore hand knitted jumpers or cardigans without any embarassment - imagine that today! Sensible haircuts for the boys making sure that their ears could be seen and harsh, sharp fringes for girls or pony tails with wispy bits in my case. We look so sweet and innocent. Do black and white photographs evoke happier memories because we can't see the colours of our clothes and make judgments? Nothing worse than an old colour photograph showing you up in your bad taste clothing that you thought was so trendy at the time.
When I was at school we had satchels which we stuffed with whatever we needed in them. Usually a pencil case, ruler and other vital oddments along with homework. Last week I tried to lift young Katherine's school bag - trendy black rucksack variety - and nearly gave myself a hernia. What on earth is going on when children from the age of 6 are expected to lug hundredweights of books around with them. No wonder they all have back problems. When I enquired as to why she had so much in her bag, it's because they do not like to leave their stuff in lockers (security) and because teachers now sit and wait for children to come to them, they are forced to carry everything they might need around with them. How stupid. What was wrong with the old way of teachers coming to the class and the children having their own desks to leave stuff in? The only time we left our desks was for games, science and domestic science - who remembers that one then? I also find it very bizarre that the modern way of teaching seems to involve kids sitting at tables - ideal for ruining concentration - instead of good old fashioned desks in lines?
Thinking back to my High School days and Domestic Science, I remember pestering to get the right shopping basket to carry home my cookery results safely tucked under a teatowel. We learnt cheese and onion pie, treacle toffee, Victoria sponges and parents bravely tried the results. I had the added bother of making sure no-one attacked my stuff on the school bus I used to catch between Macclesfield and Kettleshulme.
A similar basket to one I had - think mine was darker
Another subject in Domestic Science, believe it or not, was Laundry. I saw my first 'twin tub' in these lessons and was also taught how to starch a pillow case using Robin Starch - the powder that is and not the spray used today. I reckon I could still do it if pushed too.

Domestic Science also taught us to get everything together before we even started anything. All your implements for cooking, ingredients etc, should be lined up neatly before starting and when you had finished, you had to scrub down the big wooden tables. All good advice - some of which I still adhere to but not all (oops).
We also had many hours of 'sewing'. The High School had a Sewing (or was it Needlework) Room with a fascinating mix of early sewing machines with moods and attitudes to match the pubescent girls forced into using them. We had to make our own aprons for Cookery, a games skirt (nightmare) and probably other things that have vanished from my memory. However, the one thing that scarred me for life was 'french seams' - to this day I shudder at how I managed to successfully bugger these up on a nightdress!!!!! The choice of sewing machines was either Singer (still my favourite) or Jones (loathed due to difficult 'shuttle' problems). These were all manual ones and some of the Singers harked back to much earlier days by having beautiful brass plates and floral decorations.
Similar machine to those I used at the High School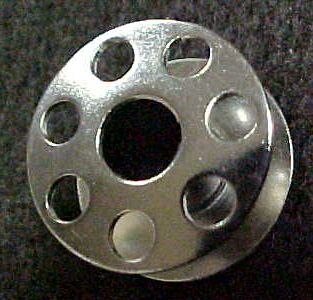 I must admit that these lessons gave me a love of sewing I have to this day and after having learnt more skills on the Singer treadle machine of my Godmother - nothing beats the soothing rythmn of treadling away - I asked for my own machine which my father got for me and I loved to distraction until the day came when I upgraded to an ELECTRIC!

Very similar to my beloved manual sewing machine
This machine was guilty of providing me with so many dresses, skirts etc during the late 60's. I used to rush to either Ellwoods fabric shop or The Fent shop in Macclesfield, choose a pattern, the material etc then rush home and make whatever it was so I could wear it on the same night or on Sundays. I even went so far as to make some office dresses for my mother. Heady stuff. Eventually though, it had to be replaced and off we went to Stockport to find a new, modern machine. My lovely Singer was displaced in favour of another Singer with all the latest bits and bobs - exciting things like a buttonhole attachment - still prefer to do them by hand though, far too fiddly on the machine. This machine was a nice off-white colour and I thought it was the bees knees - guess what - it was as I still have it to this day and it's still going strong. It had to have a new pedal a few years ago as after 30 years it gave up the ghost in a spectacular smoke-fest, but luckily I found a universal replacement which a friend brought over for me and it gets an outing once or twice a year - what amazing value for money as I think it cost about £70 to buy new.

However, I have gone off the subject of reunions. I did have a reunion, after a year, with some of the girls from the Intensive Secretarial Course I took at Macclesfield College of Further Education, which was quite good as it was only a short time since we had all started our working careers. What would it be like now I wonder? Sadly, I do not seem to have found any of the girls that were on this course via Friends Reunited or Facebook - it's hard with tracking girls as they change their names on marriage usually, whereas the lads keep theirs. Everyone had got a job - so much easier then - and it was a reunion mainly of comparing working conditions, salaries, bosses, travel etc etc.
Another reunion I took part in was very different. At the end of the 60's myself and other friends all used to go to a very special pub in Macclesfield. The Castle Inn was parked inbetween Back Wallgate and Church Wallgate. This pub was a haunt of musicians and had a wonderful landlord - Arthur Oldfield - who took great care of his clientele.
The left hand window was the long main room with a centre fireplace, the right hand window and shuttered window, was the Tap Room, frequented by elderly gentlemen and the occasional elderly lady - I say elderly because everyone over 24 was old to us. What you can't see is that there was a wonderful back room behind the bar, again with a fireplace, and old fashioned wooden bench seats, covered in red leather. This was the room frequented mostly by my friends but if there were too many of us for any reason, we would move into the larger room. This was normally when there were too many guitars and not enough elbow room! I met many wonderful friends here, and am happy to say a good few of us are still in touch. Most of the lads played guitar, others played harmonica or paper and comb, and hours of wonderful music was played. None of us were particularly wealthy and we didn't drink to the excess that youngsters do today. We could have fun and enjoy ourselves with talk, jokes, music and quite often a half pint of something could last most of a night.
The resident band were The Purple Gang who recorded Granny Takes a Trip and we would happily go off to gigs to cheer them on. When they recorded their first album, The Purple Gang Strikes, they used some of the girls from the pub as well as shots around The Castle, as the front cover.


Christopher Joe Beard - founder member
Anyway, back in about 1999, I re-connected with Joe and his lovely wife, Lesley, and went up to Higher Poynton to stay with them, take in a gig and have a reunion with some of the other people I used to know. The obvious place to meet up was obviously The Castle. How strange the feeling to feel that door latch under my fingers after about 30 years. Obviously there had been changes, not least in the landlord. The back room now had an opening through to what had been Arthur's private accommodation and there was a lot of brass ornamentation going on, but it felt just the same. It was a brilliant night because of the people - it might have been 30 years, but it felt like yesterday. Sadly, one of the guys from that evening has since died - something that affected me more than I ever thought possible. Friends from your formative years make impressions on you in a way you probably do not realise until you meet them again many years later. This is a reunion I cherish as a memory and I am happy to say that I did not feel anyone of us had changed that much, apart from obvious things like hair, teeth, weight - the sense of humour, the shared memories of our carefreeish youth, were still very fresh to all of us.
So, a reunion of primary school friends - would it have the same impact on me? Sadly I do not think it would because I was only there for a year, basically to pass my 11+. I did not live in Disley therefore I did not play with anyone on a regular basis or share parts of my life with them, apart from the occasional sleepover, because I lived in Kettleshulme and relied on my father for transport. I am glad that we all briefly emailed each other from the early Friends Reunited days, and that two of them are still in touch on a regular basis, but this time I will not be attending but I hope that it is successful for those who do and will be waiting for the report from Richard and Janet later in the summer.